Together with drones and robots, towards the society of tomorrow.
Blue Earth Platform, the autonomously distributed new social infrastructure, connects drone with robots and solves social issues.
What is Blue Earth Platform?
We are drone system integrators.
That's Blue innovation!
We are developing and providing the following solutions with Blue innovation's proprietary device integration platform Blue Earth Platform at their center. Our platform enables digital transformation and automation of various tasks by remote (BVLOS) automatic control and cooperation of multiple drones, robots and various devices.

One Command, Cross-Device,
All Missions
Blue Earth Platform (BEP) is Blue innovation's proprietary device integration platform that is capable of remote (BVLOS) autonomous control and cooperation of various types of devices, like multiple drone or robots, on the mission basis.
Via integrated management of multiple drones or robots by BEP and cooperation with various OSes and systems, it is possible to accomplish any type and number of mission that were not possible for a single device or system.
We enable digital transformation or automation of any area or task via connecting BEP with multiple drones or robots, various devices and even social or work infrastructure.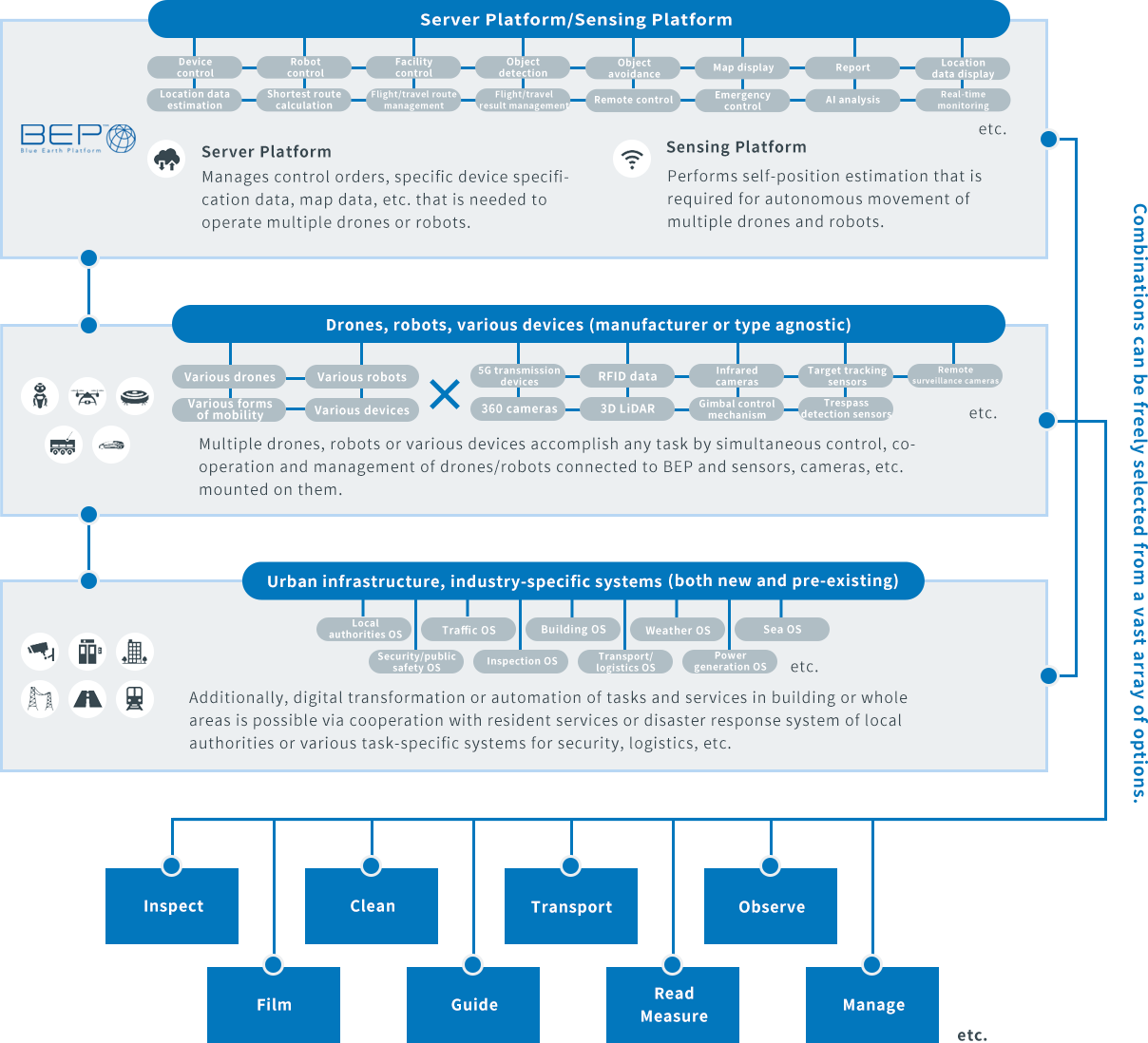 Task or goal specific BEP packages
By optimizing the set of drones or robots and required BEP features according to the task, drones and robots can cooperate and be utilized for various tasks.
With no need for complicated setup or operation, the task is automatically accomplished by just one command from BEP, which allows for automation or optimization of job done previously by humans and smartly ensures safety.

A message from our CEO, Takayuki Kumada, and the lectures, etc. we have done so far.
Recently, our country is in urgent need of solutions for many social issues, such as increase in natural disasters or infections due to global warming, increased maintenance burden due to the aging of infrastructure created since the rapid economic growth period and reduction of working population due to decreasing birthrate and aging population. These issue require creation of economic activities based on new systems.
As our vision for 2030, Blue innovation predicts that a robust social system needs to be constructed and the world will paradigm shift towards distributed autonomy society. As such, we expand our Blue Earth Platform into a distributed autonomy system and aim to become a leading company support the social infrastructure of the new world. To be more specific, BEP will become infrastructure of the system connecting new devices like drones, robots and AGVs. For example, it will connect to building OSes, traffic network OSes, etc., provide various solutions and, finally, connect to the city OS, the infrastructure of smart cities, contributing to smart and new urban development.
Blue innovation Co, Ltd.
President and Chief Executive Officer Takayuki Kumada
Company name

Blue innovation Co., Ltd.

Executives

President and Chief Executive Officer Takayuki Kumada
Executive Vice President and Chief Technical Officer Masayuki Kumada
Senior Managing Director and Chief Innovation Officer Takashi Nasu
Director and Audit Committee Member Sei Furukawa
Outside Director and Audit Committee Member Takeshi Nojima
Outside Director and Audit Committee Member Masahiro Nakagawa

Establishment

10th June 1999

Capital

214,000,000 JPY (As of end of March 2022)

Number of employees

71 employees (As of April 2022)

Business

We are developing and providing the following solutions with Blue innovation's proprietary device integration platform Blue Earth Platform at their center. Our platform enables digital transformation and automation of various tasks by remote (BVLOS) automatic control and cooperation of multiple drones, robots and various devices.
・Digital Transformation of Plants, Factories and Water Infrastructure Solutions
・Communication or Field Infrastructure Maintenance Solutions
・Digital Transformation of Distribution and Logistics Solutions
・Smart Office Solutions
・Human Resource Development and Training Solutions

Main customers

Government offices
Private companies (Multiple major communication companies, major system integrator companies, major power generation companies, major heavy industry companies, etc.)
Address: 4F, ​​Ichigo Hongo Building, 5-33-10 Hongo, Bunkyo-ku, Tokyo
TEL: 03-6801-8781 FAX: 03-6801-8782
3 min. walk from A6 exit of Kasuga Station (Toei Subway Mita Line, Oedo Line)
5 min. walk from A5 exit of Kasuga Station (Toei Subway Mita Line, Oedo Line)
8 min. walk from Number 8 exit of Korakuen Station (Tokyo Metro Nanboku Line, Marunouchi Line)